When Woodson Art Museum staff and its travel logistics partner, Academic Travel Abroad, embark on planning for a members trip, many factors come into play once the destination is determined.
Pittsburgh had been on my radar since the Museum's successful, eye-opening visit to Detroit in spring 2014. Like the Motor City, Pittsburgh's recent renaissance has been due, in part, to the strength and vitality of its arts and cultural scene.
Earlier this month, I traveled with twenty Woodson Art Museum members to this city at the confluence of the Monongahela, Allegheny, and Ohio Rivers and where half of all U.S. steel was once produced.
Professional sports are prominent in Pittsburgh, too . . . when approaching downtown from the airport, while scanning the city from the Duquesne Incline, and via logoed shirts, jackets, and bus placards.
Early October is a sports-filled month in cities throughout the U.S., including Pittsburgh. Although the Pirates aren't in the Major League Baseball playoffs, the NHL's Penguins were at home during our visit as were the NFL's Steelers. In fact, our hotel – Omni William Penn Hotel, a beautifully restored, downtown Pittsburgh "grand dame" – also was a home-away-from-home to the Steelers during our stay.
While our focus was on art and architecture, you couldn't miss the sports buzz in the hotel and throughout downtown. Happily for us, the arts prevailed; the Steelers, however, didn't on Sunday.
What made for our winning combination?
From our first stop at the Carnegie Museum of Art to experiences at The Andy Warhol Museum, Hunt Institute for Botanical Documentation, The Westmoreland Museum of American Art, and Frick Art & Historical Center, we were tre
ated to delightful, collegial welcomes and knowledgeable and insightful docent tours. At the University of Pittsburgh's Cathedral of Learning, an engaging student introduced us to a half dozen Nationality Classrooms, which dazzled.
Architecture and Frank Lloyd Wright were among the stars of our itinerary. From PPG Place [PPG Industries, formerly Pittsburgh Plate Glass Company] – a six-building complex, including Philip Johnson's Glass Castle – to Wright's masterpiece, Fallingwater, as well as Kentuck Knob, our senses were heightened by the varied ways these man-made structures respond to their environments and complement surrounding natural elements.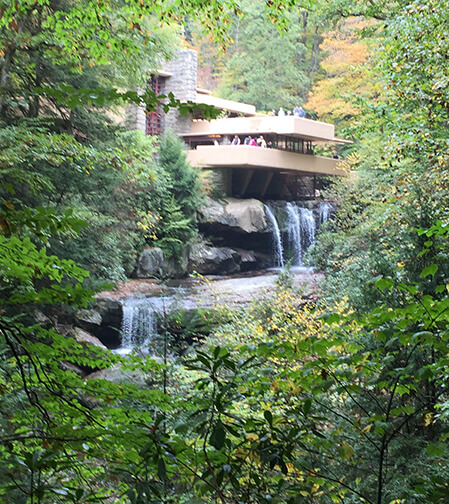 A visit to Birds in Art artist Larry Barth's studio was mesmerizing and enlightening with clay models, sketches, gizmos, gadgets, and more in abundance.
The Barth's warm welcome included Wigle Whiskey-laced warm cider and a fabulous multi-course dinner with regional wine pairings. We've been soundly spoiled!
Add to this litany an abundance of interesting evening cuisines – contemporary American, Mediterranean, and hearty Italian – and the best group of energetic, keenly interested, and adventure-loving travelers and it's easy to see how the Woodson Art Museum's Pittsburgh trip was a definitive winner!
P.S. If you're interested in exceptional travel experiences and have not already added your name and contact information to the Woodson Art Museum's traveler database, let us hear from you via email to museum@lywam.org.