I have my share of vices; procrastination isn't one of them. I'm a planner and an organizer. I like all my ducks in a row . . . literally.
I don't thrive well when deprived of control (real or perceived) and must be flexible and detached . . . the yin to organization's yang.
Due to a minor surgery, my yang was yin-ned. I was temporarily at the mercy of healing time, a wound-care regimen, and sick days. I was forced to stop and smell the flowers (a lovely arrangement sent by my co-workers). My daughter – who inherited the organization gene from me and by extension, from my mother – steadfastly followed a finely honed care checklist created by my mom. They also read the small-print that said ice the eyes, ice again, and ice some more . . . and rest.
I spent the downtime ticking-off podcasts from my "to-listen-to" list and spending an inordinate amount of time reflecting. I confess that a majority of my reflection was actually projection, as I kept a running mental list of all I was not accomplishing both at home and at the Museum. But a podcast about art prompted me to take a virtual side-trip to a favorite place . . . the Woodson galleries.
I wandered through the galleries using my mind's eye to place the works in the appropriate gallery (my mind's eye is a bit of an organization-freak, as well, so I, of course, traveled through the galleries in an orderly fashion, viewing all 123 works in Birds in Art). John Pitcher's Canadian Flotilla,
Mark Collins' One Guinea for a Second Look, and the rosy pastors in Manisha Padhye's composition were prominently recalled as was Alexander Koester's Ducks and Lily Pads from the Museum's permanent collection, on view in Audubon to Wyeth.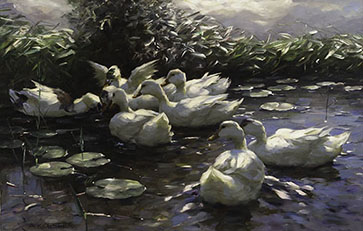 I am happily back at my office Mac and can steal glances into the galleries . . . during predetermined time allotted on my to-do list.
As you look at your lists, viewing Birds in Art should be at the top as time is of the essence. The 2015 edition of Birds in Art closes on November 29. If you previously viewed the exhibition and want to bask in the beauty another time (or a third or fourth) plan a visit. Listen to the insightful audio tour, during your visit, providing artists' comments on their works. Let the activity guide direct your path – if you choose – or take it home to complete. Enjoy the Museum's interactive family gallery – Art Park.
But don't procrastinate!
And for my fellow planners, the Museum's ALWAYS FREE admission lends itself to a checklist of "marvelous things to do for free"; or as a last-minute excursion . . . for those who embrace a more spontaneous path through life.