This summer's exhibition, The World According to Federico Uribe, is generating jaw-dropping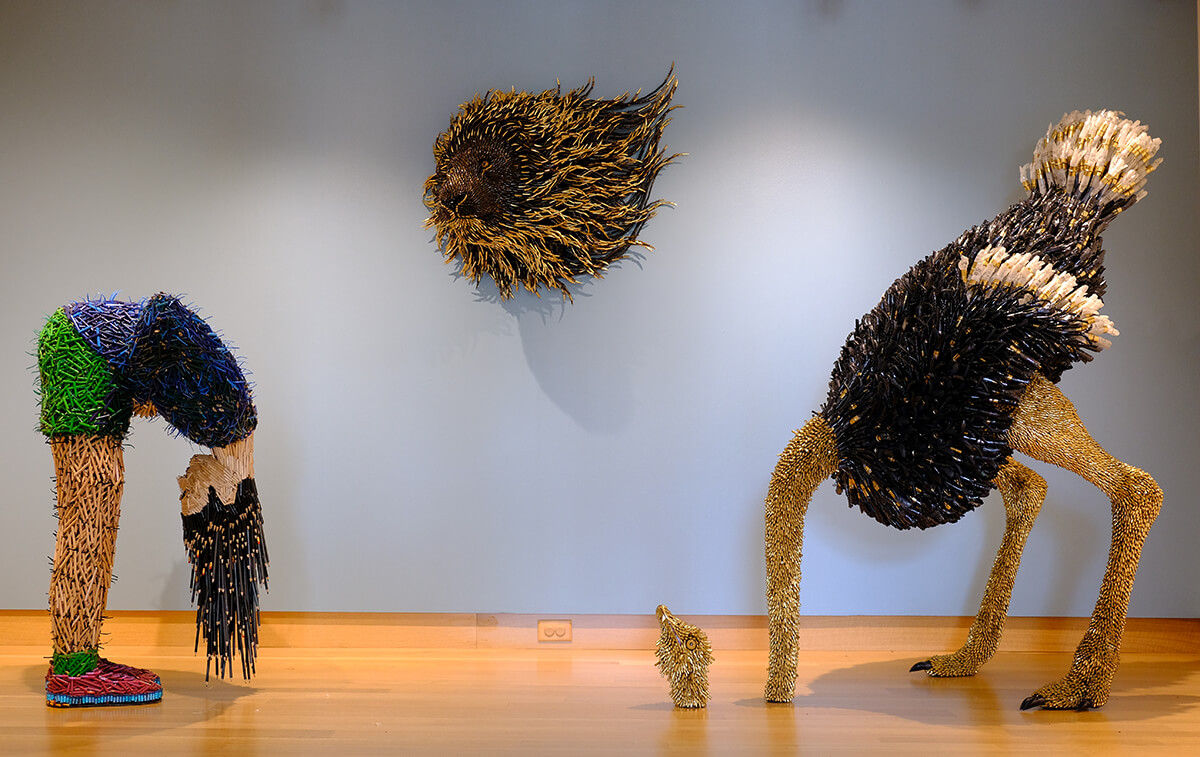 amazement and over-the-moon excitement from visitors who keep coming back for more. Uribe's sculptural menagerie – made from unexpected, everyday objects – is eliciting awe and delight that overflows throughout visitors' reactions shared with the Leigh Yawkey Woodson Art Museum's volunteer greeters. Here's a sampling of reactions, relayed from greeters, by those from throughout the region, state, and as far away as Australia, Colombia, Belgium, and beyond:
"First impression walking through the doors is 'Wow! Looks incredible!"
"Lots of parents and grandparents with kids who say it's exciting and eye-popping."
"Many repeat visitors bringing families and friends. Everyone absolutely amazed!! Not only of Federico but the Museum as well."
"The Uribe exhibition is MARVELOUS! I'm going home to start calling people, telling them to come!"
"Fantastic! I've never seen anything like it."
"Awesome, mind-boggling, fantastic. Two returned to take pictures!"
"Beyond cool! It was great fun."
"My third visit in four days, and I will be back again!"
"One little boy, 9 years old, literally had to be dragged out of the exhibition."
"Busy day – lots of smiles."
"That Uribe exhibition is AMAZING. I have to tell people!"
"Grandmother from Sweden living here came with her granddaughter and a friend from Germany; they read about the exhibition in the paper. 'Took my breath away – extraordinary.' "
"Several times, I heard 'this is the best exhibition.' "
"Coming back – they loved it so."
"Tons of positive comments."
"Everyone enjoying the exhibition – all smiles coming out!"
"Told by several visitors – so lucky to have a quality museum like the Woodson Art Museum in our community."
Visitors are raving, too, via comments entered into the Museum's digital guestbook:
"Absolutely one of the most exciting, creative artists whose work I've ever had the pleasure of viewing."
"Each exhibit held another idea that was new to me. What a beautiful treasure!"
"Beautiful landscape and museum. Well worth the trip."
"Makes you think of concepts you never even considered before."
"The Uribe exhibition was out of this world. Loved the garden sculptures, too."
Halfway into the twelve-week exhibition, on view through Sunday, August 26, more than 9,900 visitors have experienced The World According to Federico Uribe and their enthusiasm also is evident in the buzz of comments posted online.
"This is a must see!!! Amazing."
"The displays were fantastic. I highly recommend."
"Absolutely incredible exhibit!"
"We gotta go, guys!!!!! It looks cool!"
"WOW!!!! YES!!!"
"A gem of a museum, especially the sculpture garden."
"I went to this exhibit. Fantastic. Take your family."
"I went to see this menagerie! It was fabulous!"
"Such an amazing exhibit."
"Pictures don't do it justice."
"Let's take a road trip here!"
In a Facebook review, one visitor summed it up this way, "Words aren't enough. You have to experience this Museum firsthand!"
Uribe strives to foster experiences that resonate, generate connections, and create lingering memories of joy. Visit soon and often to connect with friends and family in charmingly surprising ways and discover anew what inspires you.