On view September 4, 2018 through August 11, 2019
Regal Bearing applies the tenets of portraiture to more than sixty artworks from the Museum's collection. As with human portraits, the artists represented captured the essence of their subjects using a variety of formats, including a focus on single birds without backgrounds as well as the inclusion of habitat or attributes that help to characterize a species or place it in context.
Exhibition Highlights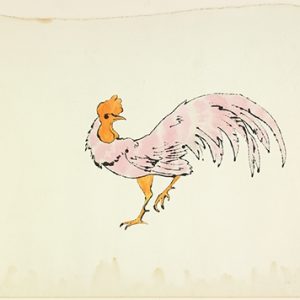 Karl Taylor, Plymouth Rock, 2005, acrylic on hardboard
Edward Aldrich, Crested Barbet, 1997, oil on hardboard
Barbara Banthien, Tribute, 2007, acrylic on hardboard
Morton E. Solberg, Female Kestrel, 1992, watercolor on paper
Andy Warhol, Rooster, ca. 1957, watercolor on paper
Thanks to the members, donors, grantors, and sponsors who support the exhibition and programs.
Exhibitions and programs are supported in part by a grant from the Wisconsin Arts Board with funds from the State of Wisconsin and the National Endowment for the Arts. Marketing supported in part by City of Wausau Room Tax funds.