June 10 – August 27, 2023
Using cloth as her canvas, Wisconsin artist Heidi Parkes 'paints' with scraps of fabric and thread in her improvisational quilts. Her fiber artworks incorporate heirloom textiles that elicit memories, reflect on domesticity, and tell stories of shared experience. Using hand quilting techniques such as appliqué, layering, knot tying, and embroidery, this slow, tactile construction process imbues the quilt with a record of time and place. This exhibition organized by the Woodson Art Museum showcases more than a dozen large-scale quilts sure to delight the senses. Heidi will be visiting the Museum for Residency July 18 – July 23. Check our Guest Artist page for programming details.
Exhibition Highlights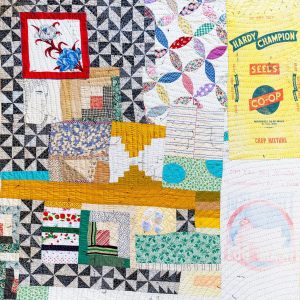 Thanks to the members, donors, grantors, and sponsors who support exhibitions and programs.
A grant from the B.A. & Esther Greenheck Foundation supports programs with visiting artists.