September 10 – October 23
Visualize avian voices via sculptures inspired by the recorded calls of extinct or endangered birds. Resembling a forest of vertical forms, the sculptures by California- and New York-based artist Elizabeth Turk are enhanced by interactive elements: scannable recordings of the lost or endangered birds' voices.
The recordings, many sourced from the Macaulay Library at the Cornell Lab of Ornithology, are visually represented by lines of varying lengths. After California wildfires drastically depleted bird populations, Turk began re-orienting the sonograms vertically and into three dimensions for her sculptures. "These structures," Turk said, "are made for interaction to prompt thought and spark conversation by begging the question, 'Are we creating a silence?'" Elizabeth Turk's artworks are presented courtesy of Hirschl & Adler Galleries, New York City.
Elizabeth Turk is the featured speaker on opening day of Tipping Point and Birds in Art 2022, Saturday morning, September 10, 9:30-10:30 am.
Exhibition Highlights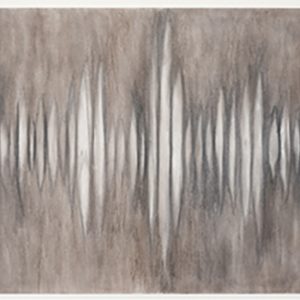 Elizabeth Turk, Hyacinth Macaw, 2020, anodized aluminum, photo courtesy of Hirschl & Adler Galleries
Elizabeth Turk, Ivory-billed Woodpecker, 2020, walnut, photo courtesy of Hirschl & Adler Galleries
Elizabeth Turk, The Air We Breathe 2, Suite of 5, 2020, charcoal and Getty fire ash on paper, photo courtesy of Hirschl & Adler Galleries
Thanks to the members, donors, grantors, and sponsors who support exhibitions and programs.
Support for the Elizabeth Turk exhibition and public program comes from the Community Arts Grant Program of the Community Foundation of North Central Wisconsin, with funds provided by the Wisconsin Arts Board, a state agency; the Community Foundation; and the B. A. & Esther Greenheck Foundation.
Exhibitions and programs are supported in part by a grant from the Wisconsin Arts Board with funds from the State of Wisconsin and the National Endowment for the Arts. Marketing is supported in part by City of Wausau Room Tax funds.