While apartment hunting years ago in Florida, we were puzzled about why so many rentals had more than we needed: two bedrooms and two baths. As soon as snow hit weather forecasts up north, we discovered the reason. Frequent overnight guests.
We quickly grew to love these visits from friends and family. One set of hometown friends – young and pinching every penny – bunked at our place while on their honeymoon. Even though we toiled away at our day and night jobs while a rotation of guests hit the beach and saw the sights, we caught the vacation vibe each time we recommended favorite restaurants and day-trip excursions.
I thin
k of that now when I invite anyone who'll listen to Night Out @ the Woodson on the first Thursday of each month. It's a great start, I always say, to a date night, family outing, or solo indulgence. And just listing the possibilities – gallery and garden strolls, Art 101, Hands-on – Art feels like an ocean breeze.
As I describe what Museum visitors can see and do, my imagined "thought bubble" leaves me feeling refreshed, like I've sauntered along the shoreline for a few moments during the workday. My "job" – the privilege of championing the Woodson Art Museum – includes many reinvigorat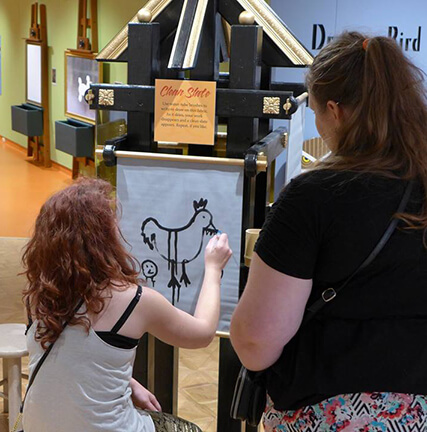 ing moments like this. Squiring a reporter through the sculpture garden, seeing photos of a poignant interaction between a parent and child in Art Park, or overhearing visitors' delight-filled comments in the galleries. Describing all of the wonders that await at the Museum is, for me, transporting.
This week, during Night Out @ the Woodson, you can be transported, too, by taking a virtual visit to international museums during Art 101: Museum Globetrotting Part 1, Thursday, May 5, 5:30-6:30. Museum director Kathy Foley and curator Andy McGivern will highlight a dozen worldwide museums and the artifacts, antiquities, collections, and architecture that make each one renowned and worth a virtual visit.
For six years, the Museum has offered Night Out @ the Woodson on the first Thursday of each month and every Thursday during Birds in Art. On May 5
, downtown Wausau's River District kicks off its second "First Thursdays" season, May through September. This year, the Museum is one of more than three dozen participating organizations and businesses offering extended hours and fun activities on these summertime evenings. The Museum will be one stop on tomorrow's scavenger hunt itinerary; begin downtown and follow the successive clues to complete the challenge for a chance to win a basket of goodies or a $50 gift certificate.
Save the dates for Night Out @ the Woodson on upcoming "First Thursdays," May through September and beyond. Start your weekends early at the Woodson Art Museum – always admission free – and catch the vacation vibe all year long.