September 9 – November 26, 2017
The source of limitless creative inspiration, birds connect us to the rhythms of life. Their migrations mark the shifting seasons, their music heralds each dawn, and their shoreline searches highlight the ebb and flow of the tide. Avian art resonates and inspires in endlessly novel ways, too. Talented artists from throughout the world push standards ever higher by continually striving to be among those selected for the internationally renowned Birds in Art exhibition.
On March 16, the Leigh Yawkey Woodson Art Museum announced Milwaukee sculptor Don Rambadt as its 2017 Master Artist who was honored during the Museum's 42nd annual "Birds in Art" exhibition this fall. Rambadt, the Woodson Art Museum's 36th Master Artist, received the Master Wildlife Artist Medal during the "Birds in Art" opening, Saturday, September 9. For additional information about Don Rambadt see the 2017 Master Artist press release and the opening-weekend and programs press release.  
The 42nd annual exhibition features new interpretations in original paintings, sculptures, and graphics created within the last three years.
Throughout the exhibition this fall, all are invited to participate in "Magnetic Migration: Find the Flock," using clues to seek and find seven of Rambadt's small nuthatch sculptures perching at public Wausau-area locations. Correctly identifying each sculpture's exact location and returning the entry form to the Museum by November 26, 2017 earns a chance to win one of two Rambadt nuthatch sculptures. Get clues and entry details via clicking this link to a fillable PDF or at the Museum.
A fully illustrated catalogue accompanies Birds in Art and is available for purchase via this link or at the Museum.
Artwork for the 2017 Birds in Art exhibition was selected in May; see this list of 2017 Birds in Art artists' names whose work is included in this fall's exhibition.
Opening day, Saturday, September 9, part of Wausau's Artrageous Weekend, provided varied opportunities to interact with more than sixty Birds in Art artists visiting from throughout the world.
Birds in Art Opening Day –  Saturday, September 9, 2017
Meet the Artists    9 am – Noon
More than sixty worldwide artists converged for Birds in Art opening festivities. Visitors started mingling early to renew artist acquaintances, form new friendships, and get 2017 catalogue and posters signed. Coffee was available at the arbor, along with treats to purchase. Early birds made Birds in Art their first stop of Wausau's Artrageous Weekend.
Master Artist Talk    9:30 – 10:30 am
Don Rambadt, Wisconsin sculptor and the Museum's 36th Master Artist, provided insights into his inspiration and sculpture process during "Side Roads."
Artists in Action    10:45 am – Noon
Birds in Art artists demystified processes during Artists in Action, demonstrating their work in various mediums beneath tents in the sculpture garden.
Sampling from Birds in Art 2017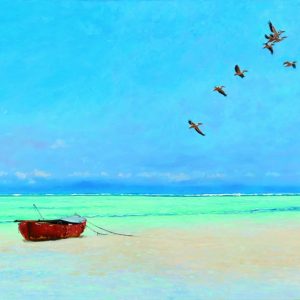 Barry W. Van Dusen, Wings of Winter, 2015, watercolor on Arches paper
Gregg Baldwin, Fishing, 2017, ink on Mulberry paper
Lucrezia Bieler, Hummingbirds, 2017, cut paper on matboard
Clarence P. Cameron, Moonstruck, 2016, Montana dendritic steatite
Ann Cunningham, Sip (ed. 10), 2017, bronze
Michael Dickter, The Beauty of One, 2017, oil on panel
Gary Eigenberger, Winter's Arrival, 2017, oil on tupelo and lilac
S. V. Medaris, Prehistoric Adolescence, (1/13), 2017, woodcut on Masa paper
Giorgia Oldano, Wood Hug, 2017, pencil on Fabriano Artistico paper
Don Rambadt, Actively Waiting (detail), 2017, bronze, stainless steel, and brass
Don Rambadt, Crane, 1999, steel
Don Rambadt, Kestrel, 2016, steel and brass
Andrea Rich, The Flock (1/10), State 1, 2017, woodcut on Kitakata paper
Rachelle Siegrist, The Usual Suspects, 2017, watercolor on Crescent rag board
Wes Siegrist, Lake Side Perch, 2017, watercolor on Crescent rag board
Jan McAllaster Stommes, Moving On, 2017, oil on canvas
Birds in Art is an international juried exhibition organized annually by the Woodson Art Museum.
Thanks to the members, donors, grantors, and sponsors who support the exhibition and programs.
Birds in Art support comes from Aspirus, Inc., Aspirus Arise, and the B.A. & Esther Greenheck Foundation. Birds in Art media support comes from Wisconsin Public Radio. Exhibitions and programs are supported in part by a grant from the Wisconsin Arts Board with funds from the State of Wisconsin and the National Endowment for the Arts. Marketing supported in part by City of Wausau Room Tax funds.