Guest Artists
Since 1999, the Woodson Art Museum has presented dynamic artist residencies filled with workshops and programs for students, educators, area artists, and visitors of all ages. Artists – who often lead a workshop, presentation, or demonstration, along with other programs during their artist residencies – offer insights on diverse mediums through public programs and site-specific installations, providing firsthand experiences with passionate and knowledgeable creators.
Upcoming Artist Programs
C.K. Wilde,  Thursday, April 13 – Sunday April 16, 2023
Madison artist C.K. Wilde visits the Woodson Art Museum for a weekend of programming to show area students, makers, and Museum visitors how he reimagines cultural imagery through currency collages woven with social commentary. 
Recent Guest Artist Programs
Stacey Miller, December 1 – December 3, 2022
Stacey Miller, hat enthusiast, collector and curator of The Global Language of Headwear joined the Woodson Art Museum to teach about creating connections to different cultures through hats and headdresses. Since her first hat purchase in Istanbul in 1979, Stacey has grown her Hat Horizons collection to more than 1,300 objects from over 150 countries and many more ethnic groups.
Sean Russell,  November 10 – November 13, 2022
Wausau native and first-time Birds in Art artist Sean Russell uses photographic transfer processes as the foundation for his mixed-media artworks. By building up layers of texture and imagery, Russell explores themes like beauty and destruction and growth and decay. 
Lynne Railsback, August 4 – August 7, 2022
Abundant Future exhibition artist Lynne Railsback captures plant life through intimate and elegant watercolor paintings of native and heirloom botanical subjects. Working directly from plant specimens and without preliminary sketches or photographic references, Lynne creates dramatic and rich paintings using only five colors. During her residency, Lynne offers a presentation, drop-in open studio hours, and a weekend workshop.
Corning Museum of Glass Mobile Hot Shop

April 29 – May 8, 2022, at the Woodson Art Museum
Corning Museum of Glass artists transformed molten glass into sparkling objects at the Woodson Art Museum during ten days of live, narrated glassmaking demonstration. The Corning Museum of Glass Mobile Hot Shop, a visually spectacular and fully functioning glassmaking studio on wheels converted from a semi-trailer, set up shop on the Museum's campus. 

S.V. Medaris, January 6 – January 9, 2022
Wisconsin printmaker and Birds in Artartist S.V. (Sue) Medaris' January residency includes a public demonstration, artist talk, and relief printing workshop for teens/adults during the Museum's presentation of American Woodblock Prints.
Tom Hill, September 28 – October 10, 2021

During his two-week residency Tom Hill works with Museum visitors and community groups to create a collaborative sculpture depicting a starling murmuration; learn more about the project in the video below. Tom also led a two-day sculptural puppet workshop, exploring form and movement through articulated avian puppets.
Mary Hark, February 6 Thursday 5:30 – 6:30 pm, 2020
Art 101: Handmade Paper Artistry: Artist and University of Wisconsin-Madison Design Studies professor Mary Hark discussed the fine craft of hand papermaking. Sharing examples of handmade papers – made from linen and cotton textiles, bio-waste, abaca, flax, and other materials – from her own practice and collected from other makers over many years, Mary's presentation included images of her production papermaking practice and hand-papermaking project in Ghana, West Africa.

Robert J. Lang, Saturday & Sunday, February 22 & 23, 2020
Master origami artist Robert J. Lang merges mathematics with aesthetics to create mesmerizing forms – both of realistic creatures and modular, geometric forms. Lang, who set aside his day job as a laser physicist to focus on both the art and science of origami, became a pioneer of the cross-disciplinary marriage of origami with mathematics, developing some of the most complex origami designs ever created. Lang's origami artwork, featured in FaunaFold and included in Above the Fold, exemplifies how applying math and computer programming to origami revolutionized this ancient art form.
During his residency, Lang led a gallery walk, public presentation, hands-on workshops, and worked with area educators, exploring the principles of STEAM education – integrating science, technology, engineering, art, and math – expressed in the origami artwork on view.
Jiangmei Wu, Saturday & Sunday, January 18 & 19, 2020
Above the Fold artist Jiangmei Wu's large-scale, origami-inspired artworks are informed by the artist's research in engineering, mathematics, technology, and the arts. Jiangmei shares her enthusiasm for spatial design in her role as assistant professor of Interior Design at the Eskenazi School of Art, Architecture + Design at Indiana University, Bloomington. During her residency, Jiangmei led a studio workshop for teens and adults and a public presentation on her areas of creative, interdisciplinary research.
Tom Hill, Tuesday – Sunday, November 5 – 10

San Francisco-based sculptor Tom Hill's memorable Birds in Art artworks feature character-filled and expressive subjects depicted in wire. During his residency, Tom worked with over 350 area students to create distinct sculptures featuring produce as body-form bases and the foundation for their mixed- media artworks. Inspired by the playful and unlimited mix-and-match design potential of Mr. Potato Head, Tom demonstrates how everyday items, even ephemeral ones, are compelling sources of inspiration ripe for incorporation into art making. See the students' produce-based creations via photographs on view through Sunday, December 8, following the residency. Tom also led an interactive Art 101 program and a two-day wire-sculpting workshop for teens and adults.
Guest Speaker Pat Freres Stinger, Saturday, November 16, 1 – 2 pm
Birds in Myth, Poetry & Art: Whether portrayed as winged messengers of the gods or foreboding creatures of mystery, birds were prominent players in ancient Greek and Roman cultures. Join guest speaker Pat Freres Stinger for an exploration of avian appearances in classical myths, writings, and artwork.
Guest Speaker Sylvia Marek, Saturday, September 28, 1 – 2 pm
Wisconsin Owls: Visitors learned more about our state's twelve owl species from University of Wisconsin Arboretum naturalist and educator Sylvia Marek who highlighted the adaptations, behaviors, and characteristics of some of the Badger State's most beloved birds.
Artist Catherine McClung, Thursday – Sunday, October 17 – 20
Birds in Art artist Catherine McClung's watercolor paintings take inspiration from the woods, waters, and meadows near her Michigan home. She often incorporates gold and silver leaf into her artwork, finding a balance between the vibrant colors of her subjects and the luminous, soft shine afforded by gilded backdrops. High school art students, Museum visitors, and program participants learned about Catherine's use of metal leaf during her residency programs, including a presentation, public demonstration, and two-day studio workshop for teens and adults, all in tandem with the Wisconsin Science Festival, October 17-20.
Guest Speaker Craig Thompson, Saturday, October 26, 1 – 2 pm
Bird Conservation in Your Own Backyard: Department of Natural Resources section chief and Wisconsin Bird Conservation Initiative committee member Craig Thompson shared information and resources for achievable steps you can take on behalf of Wisconsin avian inhabitants.

Guest Curator Carol Woodin, Saturday, June 8, 1 – 2 pm
Botanical Art Worldwide: Global Initiative Insights: Visitors learned about the coordinated, international effort to increase appreciation of the world's plant diversity from guest curator Carol Woodin. Botanical Art Worldwide: America's Flora, organized by the American Society of Botanical Artists and the United States Botanic Garden, is one of twenty-five initiatives.
Artist Bonnie Gale, Friday – Sunday, June 21 – 23
Bonnie Gale, a New York-based artist and landscape designer who has used willow as her primary medium since the early 1980s, returned to lead programs a year after constructing her site-specific Living Willow Dreams – a seven-foot-tall, domed, willow structure – in the Museum's Sculpture Garden. An accomplished willow basketry artist, Bonnie's residency programs wove together the themes of this summer's botanical art exhibitions – Botanical Art Worldwide: America's Floraand Flora, Fauna, Font: Illustrating the Alphabet.
Artist Wendy Brockman, Thursday – Sunday, August 1 – 4

Known and admired for her elegant and exacting depictions of bird nests, Minnesota-based artist Wendy Brockman shared her expertise and enthusiasm for botanical art during her residency programs, which included a gallery walk, studio workshop, and in-gallery painting demonstration complementing Botanical Art Worldwide: America's Flora.
Artist Mark Wagner, Saturday & Sunday, May 4 & 5

Cut Up/Cut Out exhibition artist Mark Wagner creates intricate collages made entirely from deconstructed U.S. dollars, slicing thousands of bills to create artwork that pointedly and playfully explores the intersection of wealth, power, value, and American identity. During his residency, Mark lead a collaging workshop for teens and adults on Saturday, May 4, and a public presentation and gallery walk on Sunday, May 5.
Professor Shiela Reaves, Rescheduled due to inclement weather to Sunday, February 17, 1 – 2 pm
Art 101: Understanding the Art of Vision
Parts of the brain that help us see objects and connect them to what we believe them to be are referred to collectively as the visual brain. Increased visual multitasking and stress from digital technology are changing our visual brains, impacting our ability to interpret visual experiences such as optical illusion. Shiela Reaves, professor and director of Undergraduate Studies in the Department of Life Sciences Communication at the University of Wisconsin- Madison and a member of the UW-Madison McPherson Eye Research Institute, shared her research surrounding the intersections of neuroscience and the visual brain.
Professor Emily Ward, Saturday, January 26, 1 – 2 pm
Seeing & Not Seeing: Investigating the Foundations of Perception 
Why do we often perceive things that don't actually exist, while sometimes failing to perceive what is plainly in sight? Join Emily J. Ward, University of Wisconsin-Madison assistant professor and director of the Visual Cognition Laboratory discussed the cognitive science of visual perception.
Quilter Pat Gaska, Saturday, January 12, 1 – 4 pm

Illusion Quilts
Workshop
: Author and quilter Pat Gaska led participants through the design of an optical illusion block pattern, which participants assembled using the English paper piecing technique.
2018
---
Artist Josh Guge, Thursday – Sunday, November 1 – 4

During his
 residency
, 
Birds in Art
artist Josh Guge, an experienced
 instructor and sculptor
, led two carving workshops
November 2-4
and
16-18
and a public Art 101 presentation and carving demonstration.
Artist Jane Kim, Friday – Sunday, November 9 – 18
Artist, science illustrator, and founder of Ink Dwell – a studio designed to inspire people to love and protect the earth, Jane Kim specializes in creating large-scale public installations.  During Jane's Woodson Art Museum residency, school groups and Museum visitors observed Jane as she worked on her large, commissioned painting onsite, RGB(ird), which illustrates how bird feathers get their color. She also led a Birds in Art gallery walk, offered a full-day scientific illustration workshop for teens and adults, and presented an evening program about her work and artistic process.
Author Michelle Houts, Thursday, September 20, 5:30 – 6:30 pm 
Count the Wings: Behind the Charley Harper Biography
Visitors learned about artist Charley Harper's life and beguiling artwork of birds and animals that defined his signature style: minimal realism.
Michelle Houts
, author of
Count the Wings: The Life and Art of Charley Harper
 for readers ages 9 and up, shared insights designed for nature and art enthusiasts of all ages.
Artist Kris Parins, Tuesday – Sunday, October 2 – 7
Wisconsin native and
Birds in Art
artist Kris Parins
shares her expertise and enthusiasm for watercolor during this
residency
, guiding area students through hands-on painting in the Museum's classroom and engaging visitors during public programs. Parins demonstrates her distinctive watercolor-pouring technique during an evening Art 101 program; teens and adults can try their hand at the process during a weekend studio workshop.
Writer Ronnie Hess, Friday & Saturday, October 12 & 13

Journalist and poet Ronnie Hess shares her creative writing and passion for owls during a public reading and creative-writing workshop on Saturday, October 13, 9 am – Noon; call 715-845-7010 to register.
Artist Federico Uribe, Saturday, June 2, 1-2 pm
Gallery Walk with Federico: Visitors saw the world through the eyes of artist Federico Uribe as he led a walk amongst his vibrant, inventive sculptures animating the galleries.
Screenprinting with Artist Anne Senechal Faust, Friday – Sunday, June 22 – 24
Teen & Adult Workshop: Friday, June 22  4 – 7 pm, & Sat. & Sun., June 23 & 24 10 am – 4 pm
Teens and adults joined 
Birds in Art
Master Artist Anne Senechal Faust
for a three-part workshop dedicated to the art of screen-printing or serigraphy. With Anne's guidance, participants created original, two-color serigraphs in an edition of ten.
Photographer Ian Plant, Saturday & Sunday, May 12 & 13

Area photographers and outdoor photography enthusiasts joined
Ian Plant
for
weekend public programs
and a photography class, complementing the Woodson Art Museum's traveling exhibition
Rarely Seen: Photographs of the Extraordinary
, which includes
Ian's photograph of Wisconsin ice caves
.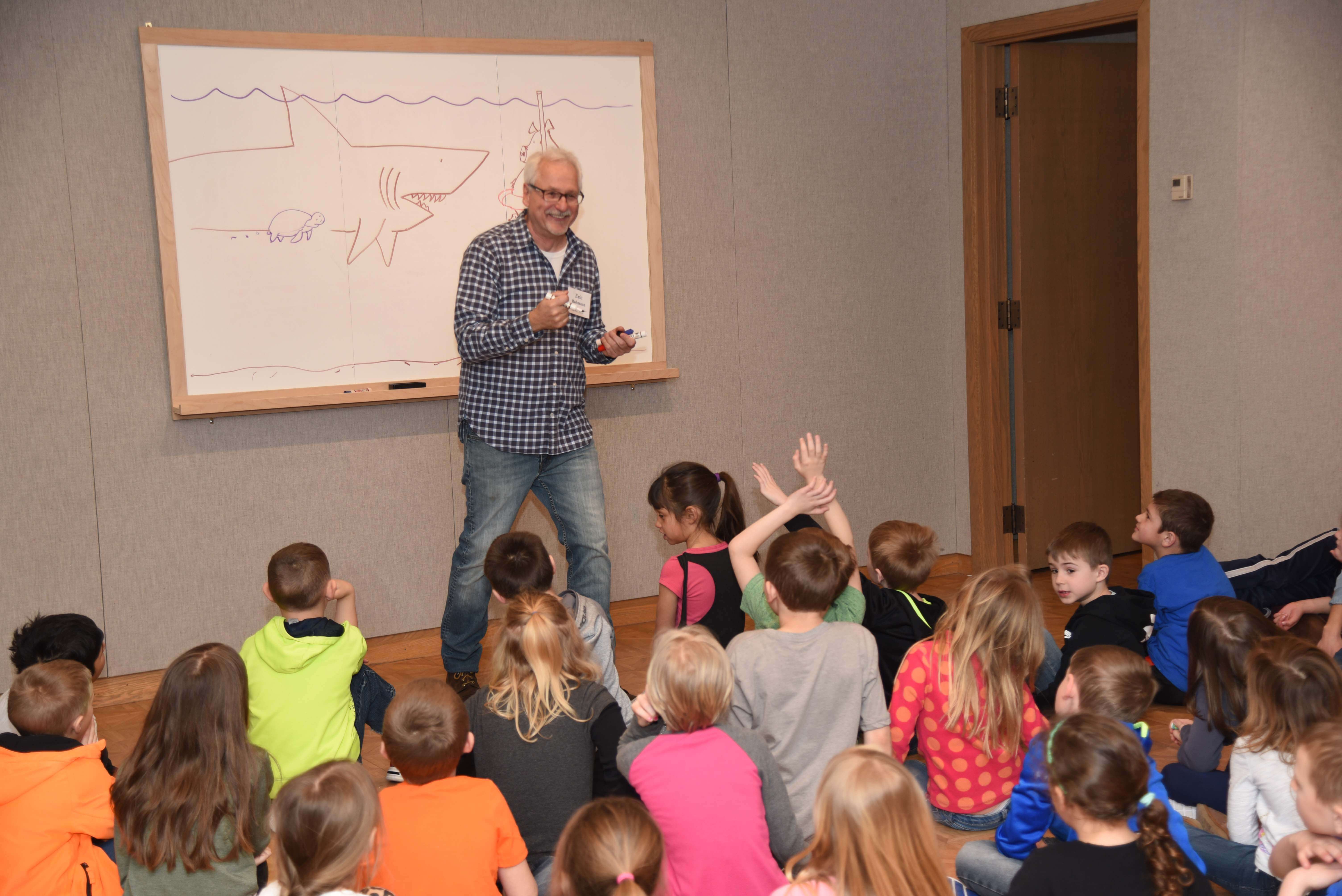 Author & Illustrator Eric Rohmann Residency, Tuesday – Sunday, April 3 – 8
Caldecott award-winning
artist Eric Rohmann
shared his passion for children's illustrated literature during
residency
visits with over 300 area students and public programs. Eric's teen/adult programs included
relief printmaking
and
visual storytelling
workshops.
Artist and Author Mary Fons in Residence, Friday – Sunday, January 19 – 21
Quilter, designer, writer, and television personality 
Mary Fons
shared her love of quilt design and history during
workshops and programs
.

Support for the Mary Fons residency is provided through the Community Arts Grant Program of the Community Foundation of North Central Wisconsin, with funds provided by the Wisconsin Arts Board, a state agency, the Community Foundation, and the B.A. & Esther Greenheck Foundation.
Wisconsin Valley Woodturners, January 4 and 6
Thursday, January 4, 5:30 – 7 pm, Art 101/Hands-On Art: Wisconsin Valley Woodturners demonstrated and discussed woodturning techniques, answered questions, and invited participants to try their hand at the lathe. Saturday, January 6, 1 – 3 pm, Art Park Open Studio: Wisconsin Valley Woodturners shared their enthusiasm and expertise as they guided participants in basic woodturning techniques.
Glass Vignettes with Artist Ricky Bernstein, Saturday, December 2, 1 – 2 pm
Sculptor Ricky Bernstein described the inspiration, designs, and production process for his whimsical, large-scale glass sculptures, like his site-specific artwork
Destined for the Stars
created for the Woodson Art Museum, on view beginning December 2.
Lessons from Birds Lost with Author B.J. Hollars, Saturday, November 18, 1 – 2 pm
Author and University of Wisconsin- Eau Claire English professor
B.J. Hollars
led conversation on conservation and read from his book,
Flock Together: A Love Affair with Extinct Birds
. Materials in the Museum's collection aided Hollars in his research for
Flock Together
.
Rachelle and Wes Siegrist Artists Residency, Sunday – Friday, October 28 – November
Tennessee-based
Birds in Art
artists Rachelle and Wes
Siegrist are internationally recognized for their paintings on small canvases, usually less than nine square inches. Drawing upon their experiences as artists and instructors and their admiration for nature, the Siegrists incorporate the centuries-old traditions of miniature artwork into their twenty-first-century practices. During their
residency
, the husband-and-wife team worked with
visiting students
creating miniature watercolor paintings and presented public
demonstrations
, presentations, and a
workshop
for teens and adults.
Wisconsin Poet Laureate Karla Huston, Saturday, October 21, 1 – 2 pm
Words Take Flight: Poetry & Conversation: Wisconsin's Poet Laureate Karla Huston shared avian-themed poetry and led conversation in the Birds in Art galleries.
Master Artist Don Rambadt in Residence, Thursday – Sunday, October 12 – 15
This fall, Master Artist Don Rambadt worked with Wausau East High School art and technical education students to develop original sculpture designs for fabrication in the school's metal workshop. During his residency, Museum visitors observed his working process during a public demonstration or try their hand at small-scale metal sculpture in a three-part workshop for teens and adults. 
Backyard Birdscaping with Author Mariette Nowak, Thursday, September 28, 5:30 – 6:30 pm
Mariette Nowak, author of Birdscaping in the Midwest, discussed native plants that attract, shelter, and feed birds to enhance backyard birdwatching; following her talk Mariette offered a book signing.

Convergence: Where Art, Writing, and Conservation Meet, Thursday – Saturday October 5 – 7
Visitors explored the intersection of the arts, humanities, and natural sciences with environmental stewardship through programs featuring writer and outdoorsman John Gierach, plein-air painter Bob White, photographer Mike Dvorak, forest ecologist Alan Haney, and conservation biologist Eric Anderson. Through public presentations, art making, a panel discussion, and gallery conversation, these guest artists, authors, and scientists asked participants to consider varied ways to understand, appreciate, and protect the natural world.
Native Birds of Cuba with Author Nils Narvarro, Thursday, September 21, 5:30 – 6:30 pm
Cuban ornithologist Nils Navarro, author of Endemic Birds of Cuba: A Comprehensive Field Guide, offered a window into the colorful and diverse species of birds found on his native island. This program was supported in part by the Natural Resources Foundation of Wisconsin.
Raku with Reineking: Teen & Adult Three-Part Workshop
Saturday, June 24, 10 am – 4 pm; Saturday, July 8, 9am – Noon; Sunday, July 9, 10 am – 4 pm Wisconsin sculptor and ceramist Gene Reineking lead participants in a three-part Raku pottery workshop inspired by artwork on view in Contemporary Japanese Ceramics. The first session focused on hand-forming ceramics, followed by glazing in Part 2 on Saturday, July 8, 9 am-Noon, and firing during Part 3 on Sunday, July 9, 10 am-4 pm.
Student Artist Molly Hassler, Thursday, June 15, 10:30 am – Noon
Exercise Your Imagination: Textile Marbling Adults ages 60+ joined specially trained student artist Molly Hassler to explore creativity – through textile marbling – in a supportive environment. Molly is part of the University of Wisconsin, Milwaukee's Student Artist in Residence (SAIR) Program, created by Professor Anne Basting, a 2016 MacArthur Fellow. Funded by Bader Philanthropies, the SAIR Program pairs art students with organizations serving older adults to provide intergenerational connections and creative engagement through workshops. Anne Basting states, "Research shows that engaging in the arts in late life, as a beginner or lifelong artist, has multiple benefits for health and well-being. It has been a joy to watch both generations thrive in this program."
Woodblock Printing, Saturday, April 8, 10 am – 4 pm AND Sunday, April 9, 10 am – Noon
Inspired by M.C. Escher's early woodblock prints, participants designed, carved, and printed woodblock prints with guidance from printmaker and paper artist Shannon Pueschner and Museum educator Catie Anderson during this two-part studio workshop.
Artist Robin Lauersdorf, March 4, 25, and 26
Wisconsin artist Robin Lauersdorf draws inspiration from the artwork of M.C. Escher to create his precise yet whimsical drawings featured in Illustrating Illusion: Drawings by Robin Lauersdorfon view through May 28. Robin led dozens of visitors through his exhibition on Saturday, March 4 and offered a two-day drawing workshop for area teens and adults Saturday and Sunday, March 25 and 26.
Nicholas T. Kondoprias, Thursday, March 23 Noon – 1 pm OR 5:30 – 6:30 pm
During his M.C. Escher: Reality and Illusion gallery walks, Nicholas T. Kondoprias shared stories about Escher's life and artistic career. Nicholas T. Kondoprias is a partner at PAN Art Connections, Inc. which organized the M.C. Escher exhibition.
Professor Catya von Karolyi, Saturday, March 18, 1 – 2 pm
Recognizing impossible figures, like those found in Escher's artwork, has been associated with artistic talent and also with dyslexia. During her March 18 lecture, University of Wisconsin-Eau Claire psychology professor Catya von Karolyi presented research about these relationships and discussed the importance of nurturing visual spatial abilities in the classroom and with children at home.
Woodland Glass Arts, Thursday, February 2, 5:30 – 6:30 pm and Wednesday, February 15, 12:15 – 1 pm
During their Art 101 programs, Denis and Janine Daniels of Wausau's Woodland Glass Arts, illuminated the stained glass studio process from start to finish. Visitors learned that whether beginning with a commission or a concept, designing elaborate stained glass pieces for architectural windows or decorative lampshades requires precision and planning.
Judy Shumway, January 6/7 & January 13 /14
Glass artist and instructor Judy Shumway, co-owner of
The Glass Garden studio in Janesville
, offered two beginning stained-glass
workshops
beginning Friday evening and finishing up on Saturday afternoon, where participating teens and adults created a small hanging window panel.
Lindsy Parrott, Saturday, December 3, 1 – 2 pm
Lindsy Parrott, director of
The Neustadt Collection of Tiffany Glass
and
Tiffany Glass exhibition curator
introduced visitors to the exhibition, offering a Saturday afternoon program on the methods, artisans, and materials that made Louis Comfort Tiffany and Tiffany Studios American art icons.
Ecologists Alan Haney and Eric Anderson, November 3 and 16
During two November Art 101 presentations, University of Wisconsin-Stevens Point College of Natural Resources emeriti professors Alan Haney and Eric Anderson presented research on the uncertain biodiversity of the northern Midwest in the face of climate change and other human-caused disruptions.