I'll admit it; I'm a comment hound. Although I prefer to cull rather than collect things and recently discovered the liberating joy of packing and traveling light, I am a bit of a story hoarder. I love to collect Woodson Art Museum visitors' comments and stories.
It's delightful to see what Leigh Yawkey Woodson Art Museum visitors love, appreciate, and are inspired by during their time here. To me, the recently installed comment wall in the sculpture garden is a treasure trove. After staff brainstormed ideas, facilities manager Dave Jones deftly constructed and installed it following the Museum's award of a 2017 National Medal from the Institute of Museum and Library Services.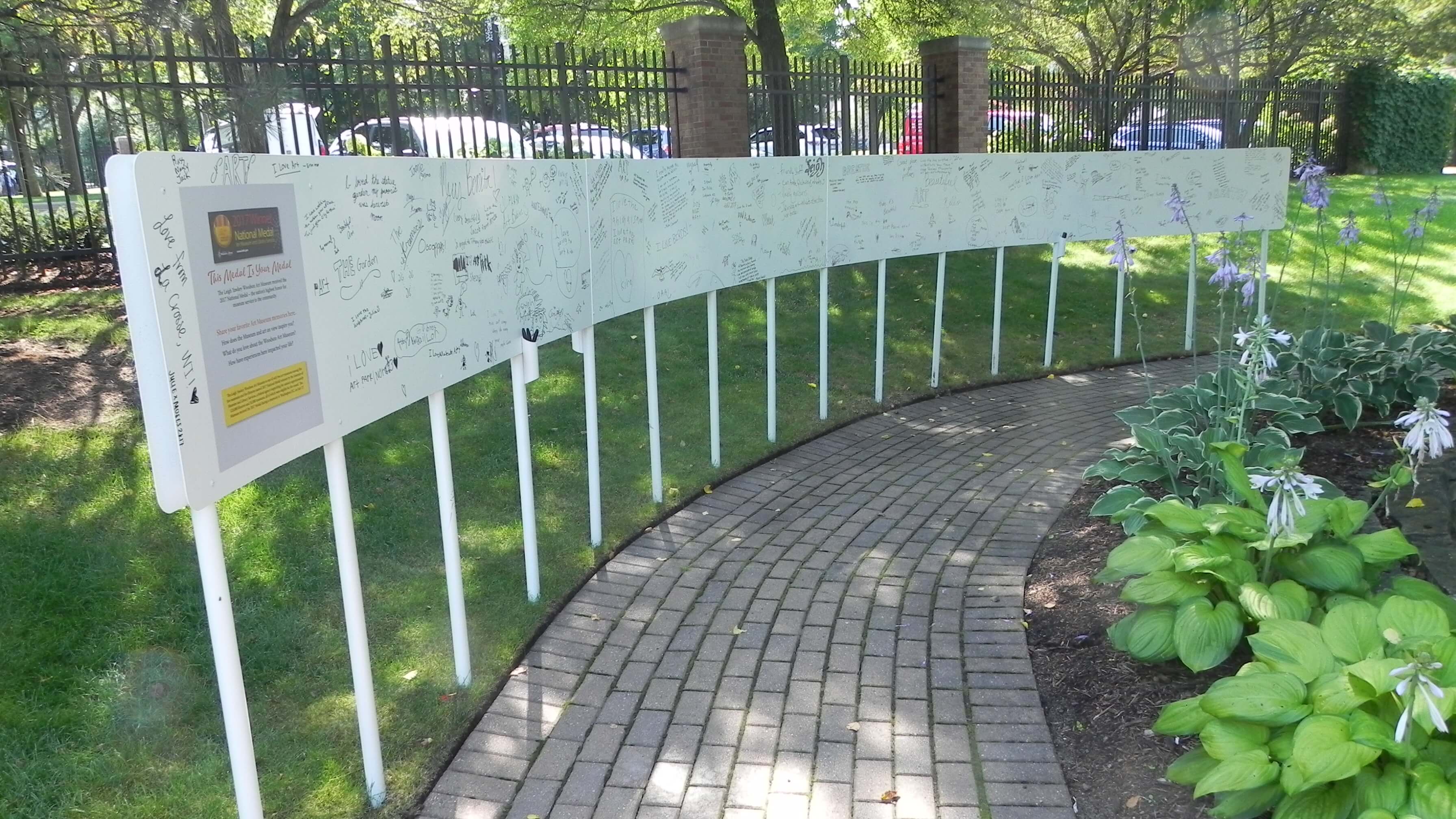 When forecast rain moved the National Medal Community Celebration into the galleries on August 3, Dave and educator Catie Anderson whipped up a temporary version for visitors' indoor use.
"What a wonderful honor for a great museum and all the events and opportunities it gives the public to enjoy and learn."
"Well deserved! Great community addition."
"The Woodson is "the gem" of this gem of a community!"
"Thank you for all of the wonderful work you do!"
"Thanks for adding richness & beauty to our lives!"
"Thank you for all you do for our community."
"Thanks for enriching so many lives!"
"Loved art camp."
"The Woodson is wonderful! Each and every exhibition is so educational & fascinating. P.S. Thank you all so much and congratulations!"
"Congratulations on this amazing honor. It is such a pleasure to see the museum receive recognition for all it brings to our community."
"Dinotopia was super fun – imaginative and one the grandchildren are still enjoying."
"I am grateful that this museum gives me the opportunity to spend such quality time with my children making art."
"Coming to Birds in Art since we were young and sharing it and the wonderful/AMAZING art classes with our daughters. Thank you"
"1987 memory: escorted Jimmy Stewart, the actor, to a side garden for some 'fresh air.' We enjoyed his collection of 'animal art.' He missed his wife – nice talk and evening."
"Can anyone imagine a world without art! How would we express ourselves? Great work!!!"
"We always bring our visiting guests here!"
"What a great resource. Students' lives have been so blessed to have the Leigh Yawkey Woodson Art Museum!!!"
"Always more to learn – new insights to appreciate!"
"I like looking at what you bring to us!"
"You help make Wausau special!"
"Í really love this museum!"
"The Norman Rockwell exhibit touched me."
Here are thoughts from the sculpture garden comment wall.
"We enjoyed the sculpture garden on a perfect summer day, 8-9-17."
"5 stars!"
"The Escher exhibition was fascinating!"
"Amazing and beautiful everytime I come!"
"Beautiful and peaceful, lovely day with family."
"The garden is sooo beautiful."
"The SPARK! program which is sponsored by the Museum is a wonderful opportunity for Northcentral folks to appreciate artistic talents! I love being a volunteer for the program!"
"I walk my girls through the garden every week in the summer and fall. It brings us peace and happiness."
"When you walk into a place and feel welcome and surrounded by beauty this is what I love about the Leigh Yawkey Woodson Art Museum. Thank you for an amazing experience."
"I love this place so much! I've only been outside so far, but we've visited here before and I just can't stop taking pictures. To everyone coming here: enjoy this place. It's amazing and there are not many places like it anymore."
"Feelings are hard to put into words; my feeling when I come here is AMAZING."
Write and draw your thoughts, impressions, observations, and fond recollections on the comment wall in the sculpture garden this summer and fall. Your commendations often can be the best invitations, encouraging others to visit often – always admission free – to discover anew the every-changing wonders that await.