June 8 – August 25, 2019
From saguaro cactus of the Southwest, big-leaf maple of the West Coast, and bloodroot spanning the Midwest to bottlebrush buckeye of the Eastern Seaboard, this exhibition features artworks of America's native plants. Familiar plants such as sunflowers and violets and rare species such as lady's slipper orchids are highlighted in watercolors and other mediums. Curated by the American Society of Botanical Artists and the United States Botanic Garden, Botanical Art Worldwide: America's Flora is part of a worldwide project in which national exhibitions are simultaneously on view at cultural institutions in twenty-five countries on six continents. Each exhibition features contemporary artwork of native plants by resident artists via a coordinated, international effort to increase appreciation of the world's plant diversity and to link people with plants via botanical art.
Exhibition Highlights
© Linda Medved Lufkin, Bloodroot, 2017, watercolor and gouache on vellum
© milly acharya, Trumpet Vine, 2015, watercolor on paper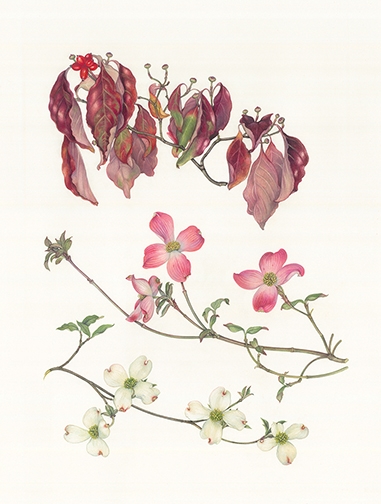 © Margaret Farr, Dogwood, Fall and Spring, 2015, watercolor on paper
© Derek Norman, The Longleaf Pine Revisited and Revered, 2017, watercolor, colored pencil, and graphite on paper
© Lynne Railsback, Oak Leaf Lace, 2017, watercolor on paper
© Gillian Rice, Desert Bluebells, 2016, watercolor on vellum
© Betsy Rogers-Knox, Woodland Wildflowers, 2016, watercolor on paper
Thanks to the members, donors, grantors, and sponsors who support the exhibition and programs.
Exhibitions and programs are supported in part by a grant from the Wisconsin Arts Board with funds from the State of Wisconsin and the National Endowment for the Arts. Marketing supported in part by City of Wausau Room Tax funds. Support for hands-on art-making supplies comes from the Walmart Foundation.