On view through February 19, 2017
This selection of avian-themed drawings ranges from quick sketches to intricately detailed illustrations, highlighting artists' varied approaches and the importance of field observation.
While working styles vary, many artists resolve their compositions and other details before moving to their chosen final medium, whether for a painting or a sculpture. For most preliminary work, a pencil and paper are the likely tools of choice. Why? Pencil marks are forgiving; they can be erased easily, allowing an artist to change elements to achieve the most pleasing composition. Many artists believe drawing and sketching are
essential for successfully completing finished works.
In Making Marks, you'll discover more than sixty drawings and sketches created for different purposes. Some were intended to inspire; others record detailed observations to preserve memories. Several are intricate; others comprise simple lines. Just as each sheet varies, so do artists' styles and mediums. See the list of artists with work in Making Marks. This exhibition from the Museum's collection is organized around five themes: Inside Out, Quick Draw, Fine Feather, Character Sketches, and Pencil Pushers.

Exhibition Highlights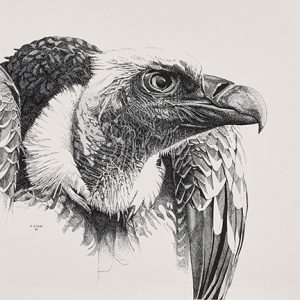 Jonathan Wilde, Adult Male Blue-winged Teal, 1978, watercolor on paper
Karen Bondarchuk, Raven Yawking*, 2011, charcoal on BFK Rives paper; Yawking* is yawning and talking
Anne Senechal Faust, Head Study: Ruppell's Griffon Vulture, 1981, pen and ink on paper
Berry Fritz, Yellow-headed Amazon Parrot, 2006, colored pencil on toned paper
Pete Marshall, Emu Chicks, 2009, pencil on Fabriano paper
Leon van der Linden, Peregrine Falcon, 1992, pencil on Fabriano paper