June 11 – August 28, 2022
Farm to Table considers the farm as a site of production, both artistic and agricultural. It features artworks from the Woodson Art Museum collection that showcase the barnyard as a site of orderly nature, fenced in first by the farmer and second by the artist's frame.
Farm to Table artworks span from 1878 to 2017; the earliest are rooted in the Impressionist movement, which began in France in the 1870s. The Impressionists found inspiration in many modern sites: the city, the train yard, the urban park. Yet, the farmyard and field remained two of their most-visited locations. This dual interest – in the rural ad the urban – highlights the modern paradox between farm and city. Often invisible, the labor of the farm makes life in the city possible, and the subjects of artistic study become the centerpieces at our tables.
Exhibition Highlights
To see artwork images online, check this PDF.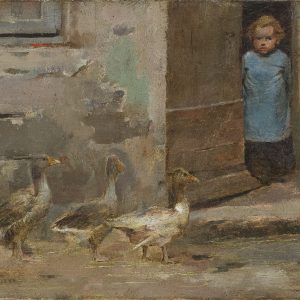 Theodore Robinson, Child with Geese, 1886, oil on canvas
Alexander Pope, Jr., First Prize, ca. 1890, oil on canvas
Childe Hassam, The Haystack, 1885, oil on canvas
Thanks to the members, donors, grantors, and sponsors who support exhibitions and programs.
Exhibitions and programs are supported in part by a grant from the Wisconsin Arts Board with funds from the State of Wisconsin and the National Endowment for the Arts. Marketing is supported in part by City of Wausau Room Tax funds.